PM Modi gives mobile banking a push, says E-banking no difficult than WhatsApp
PM Modi gives mobile banking a push, says E-banking no difficult than WhatsApp
PM gives mobile banking a push, asks youth to teach 10 families daily on cashless transactions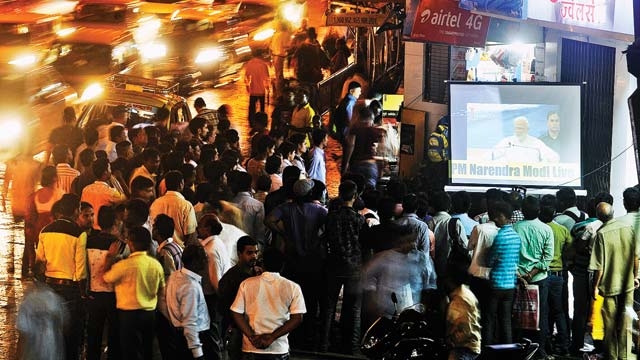 Reiterating that he has set a 50-day time-frame for ringing in a new India, Prime Minister Narendra Modi on Sunday appealed to the youth to go in for online banking, saying it was "no more difficult than WhatsApp".
Pointing out that demonetization was aimed at benefiting the poor – the farmers, labourers and other deprived sections of the society, Modi urged labourers to open bank accounts so that wages are credited directly to their accounts. "This will ensure that the minimum wages rule is followed. Also, once you have bank accounts, you can use e-wallet facility using any mobile phone," he said.
"You can buy simple phones which can also work like e-wallets. You do not need a smart phone. With e-wallet, you can make payments to small shops in your locality," the PM said, sharing his thoughts in the 26th edition of Mann Ki Baat programme on All India Radio.
He exhorted the youth to teach at least 10 families daily on how they could do cashless transactions through mobile apps, mobile banking and debit/credit cards. He said small shopkeepers had also adopted technology, mobile apps and mobile banking to serve their customers. "I would urge small shopkeepers to enter the digital world, download mobile apps of banks, get Point of Sale (PoS) machines… They should learn how business can be done without cash. This, rather than hurting your business, will make it grow. This way is also safe and secure," Modi said.
Seeking everyone's cooperation to make the campaign against black money a success, the PM warned those trying hard to bring back black money into the system through benami transactions of severe punishment.
He also praised people for helping to dedicate this year's Diwali to soldiers. Quoting from a soldier's letter, the PM said this Diwali, the soldiers felt like they are celebrating with 1.25 billion Indians and didn't miss their family. Stating that soldiers must be remembered during festivals, celebrations and happy moments, he said that MyGov open forum will bring out a coffee table book, compiling select messages, letters, poetry, pictures and videos sent to soldiers.
He also mentioned about his meeting with representatives of panchayat heads of Jammu and Kashmir, praising them for creating awareness on education, and expressed happiness that the recent board examinations saw 95 per cent attendance in the state.
Source by dnaindia….
Share:
loading...